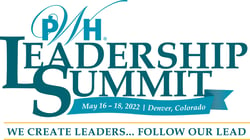 2022 Leadership Summit Attendee Information
Attire
Business / Business Casual
Weather



The average temperatures in Westminster, CO in May range from a high of 70 degrees during the day to a low of 44 degrees at night.
Time Zone
Denver is located in the Mountain Time Zone
Registration and Information Desk
When you arrive at the Westin, please visit the event registration and information desk to receive your materials.
Monday, May 16th 11:00 am - 6:00 pm
Tuesday, May 17th 7:00 am - 5:00 pm
Wednesday, May 18th 7:00 am - 12:00 pm
What to Bring
Please be sure to bring your favorite water bottle or cup as there will be water coolers in the meeting space in lieu of bottled water.
Dinner on Your Own - Dine Around Town
Monday, May 16 | 6:00 PM
If you are interested in joining a group for dinner, please choose one of the restaurants listed here and we will add you to the group reservation.
COVID-19
PWH has not established mandates relating to vaccination or masking for this event, attendees assume the responsibility of managing their risk of exposure. We will, however, adhere to any CDC and local state laws regarding COVID guidelines.